FTTH Drop Cable Self-Suppot cable GJYXCH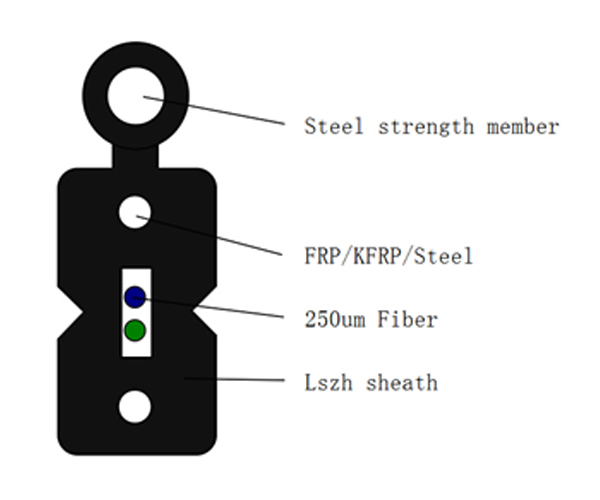 Description

The FTTH drop cable is positioned in the centre. Two parrallel fiber reinforced plastics(FRP) are placed at the two sides. A steel wire as the additional strength member is also applied. Then, the cable is completed with a black or white color LSZH sheath. The typical self-supporting bow-type drop fiber optic cable consists of GJXFH/GJXH cable and an additional strength member (steel wire/stranded steel wire).

Features

1.Special low-bend-sensitivity fiber provides high bandwidth and excellent communication transmission property.
2.Two parallel FRP/ steel wire strength members ensure good performance of crush resistance to protect the fiber.
3. Novel groove design, strip and splice, simplified installation and maintenance, higher tensile strength.
4. Single Steel wire as the additional strength member ensures good performance of tensile strength.
5. Simple structure lightweight and high practicability.
6. Novel flute design, easilystrip and splice, simplify the installation and maintenance.
7. Low smoke, zero-halogen and flame retardant sheath, environment-friendly, good safe.easily
Application:
1.High-performance optical network operating
2.High-speed optical routes in buildings (FTTH)
3. Suitable as cable extending from outdoor (as aerial cable) to indoor
Comply with Standard YD/T 1258.4-2005, ICEA-596, GR-409, IEC794, etc; And meet the requirements of UL approval for OFNR.

Sincerely Welcome your inquiry and cooperation.
Your Reliable Fiber Optic Communication
Shenzhen ASION Optical Communication Technology Co.,Ltd